Meet Marcy: Executive Who Supports Girls in Science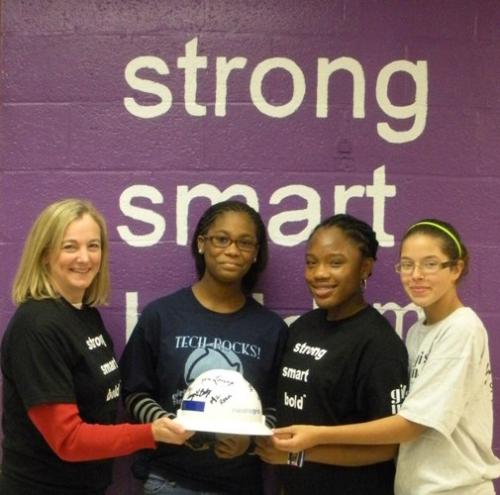 Marcy Reed is President, Massachusetts at National Grid, a utility that provides electricity and gas to homes and businesses. She also has a passion for encouraging girls in science and technology.
Q: What is a typical day like at National Grid?
Busy! National Grid is a utility company that gives electricity and gas to houses and businesses 24 hours a day, so my day is spent talking to customers or city mayors. I also attend a lot of meetings where we decide how we're going to change this or that. If we've had a big storm we may talk about how that went, and did we treat our customers properly? My favorite time is when I'm out with customers or meeting folks in the community.
Q: How did you figure out you wanted to work for National Grid?
I went to college and grad school and became an accountant. I was working for an accounting firm, and one of my clients was National Grid. I had a really bad day, and I thought I need a different job. A friend of mine at National Grid called me up and said, "We have an opening. You should apply." So I did. The very next day I went in and the next week I got the job. That was 24 years ago.
Q: What are you most proud of in your job?
Two things come to mind: The first is that I have fun every day. I'm proud that I can go to work with a bunch of people that I like and I feel like I'm contributing to society. We provide a product that everybody needs. So I'm proud we get to provide the service that we do.
The other is that I've been quite involved with anything I can get my hands on with getting kids into STEM (science, technology, engineering, and math) programs. We do it because it's very important for our company to have people who can understand the technical side. I'm already out there trying to find the next generation of the workforce through some of the STEM programs.
Q: You lived in London for about three years. What was it like?
I moved there for National Grid. The job I took was Head of Investor Relations, which meant I talked to big investment companies and banks to see if they would buy some shares in our company.
I brought my family with me, so we lived right in the heart of London. I'd never lived in a city before. If you travel, you see it from a tourist perspective – you see sights and go on tours. But when you live in a place, you have to do things like grocery shop, bring your kids to the doctor, and drive your car on the wrong side of the road. All that day to day stuff was really interesting. They work as hard as we do here, but I think they enjoy life a little bit more, so that taught me a couple of lessons.
When you get an opportunity that's a little bit "out there," consider it. It's a risk. I took it and it was fabulous – both personally and in my career. And if you get an opportunity to study or go on a trip to different places, go and do it.
Q: What do you like to do in your free time?
I have two kids. My daughter is 13, and guess what? She wants to be an engineer. I have a son who's 15. They're both really into sports. My daughter does gymnastics and my son does any sport you tell him to. So I go to all their games and drive them to all their practices.
Also, I love to play golf in the summer if I get time. We're lucky enough to have a family house on a lake nearby. We go out on a boat and we put those tubes you tie on the end of it and the kids go over the waves. I haven't been brave enough yet to do it!
Watch Marcy discuss why encouraging girls in science, technology, engineering, and math is so important with girls from Girls Inc. of Worcester.