Meet Ellen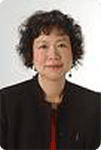 Technology Rules!
As an Information Technology Architect, Ellen oversees the "big picture" to make sure that her company's technology solutions are working together. Read Ellen's career interview to find out about her love of technology, her volunteer work at her local Girls Inc., and how a mentor can make all the difference.
Your job title is Chief Architect, Senior Director, Enterprise Architecture of Bowne & Co. Can you tell us a little bit about your position and your primary responsibilities and tasks? What's a typical day like for you?
My primary responsibility as the Chief Architect of Bowne is to make sure that the technology solutions we use will work with each other to support business needs. Every solution we use relies on many others to make it work. I spend most of my day talking to different project teams [that manage each technological solution] to make sure that their solutions will fit in the bigger picture.
Another exciting part of my job is reviewing new technology solutions and products. It's kind of like car enthusiasts looking at concept cars. Sometimes, these solutions are not even available to purchase yet, and I will have a chance to test these new products. So it is a lot of fun.
What did you study in college? Can you tell us about your path into your career?
I went to Trinity University in San Antonio, Texas. My degree was in Journalism, Broadcasting and Film. My first job out of college was the assistant to the Station Manager in a CBS affiliate in Texas. In a TV station, they use computers to schedule TV commercials. As I worked more with computers and people who design solutions, I got more and more drawn into this field.
So, I went back to school and got more training in computing technologies, eventually switched into IT (Information Technology) and worked my way up. I started my IT career as a computer programmer for a bank. Back then there is no such title as "IT architect.
I love technology because it is always changing. I always say that three years is a lifetime for a technology. For example if you look at a computer or cell phone that is three years old, it probably looks like and feels like an antique. I can definitely say that I learn something new everyday!
You're involved in a mentorship program called Women Unlimited, which inspires successful women like you to further their leadership excellence. What are some of the benefits of having a mentor throughout one's career?
Having a mentor for me is like an athlete having a coach. My mentor helps me understand my strength and weakness. She also helps me look at a situation with different perspectives and helps me come up with solutions. My mentor also helps me network.
Who were some of your most inspiring mentors growing up? As a mentee, what's the best piece of advice a mentor ever gave you?
Although I never looked at them as mentors, several people have left deep impressions and they inspire me everyday. The first are Rev. & Mrs. Cliff Waller, whom I got to know when I was going to college in Texas. They have helped many students both financially and spiritually throughout the years. Their confidence in me helped me grow, and their generosity reminds me to give back to the community.
The second person, Charles Glueck, was a legend in the fashion industry in New York. Charles' determination to develop his vision and his attention to details in his design set him apart from his competition. Charles always told me, "If you don't have the solution, you are part of the problem!"
The Girls Inc. mission is to inspire all girls to be strong, smart, and bold. What role can mentoring programs like Women Unlimited play in achieving this mission?
To be strong, smart, and bold is exactly what a woman needs if she wants to be a successful business leader. The Women Unlimited program taught me how to be an effective leader in the business world. I will use these skills to help bring Girls Inc. to Westchester and to inspire Girls Inc. of Westchester girls to be strong, smart, and bold.
When it's time to relax, what do you like to do for fun?
Believe it or not, serving on the Steering Committee for Girls Inc. of Westchester is relaxing for me. When I go to Steering Committee meetings, it takes me completely out of my day-to-day office or home environment, both of which can be very stressful at times.
Other than that, I enjoy cooking, gardening and swimming. I love to invite friends and family over to our house to have some good food, good wine, and good conversations.
What's Next?
Meet more inspiring girls and women.