Meet Maria!
The Future of Technology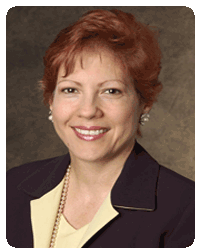 Maria is the Vice President of Innovation and Technology at IBM, which means she is responsible for coming up with new, unique ideas and sometimes even inventions. Maria weighs in on what her day-to-day life is like, how she built her career, and why you shouldn't call her a dork.
Maria on:
Getting started...
"I don't want young women to feel overwhelmed. The most import thing to focus on is what you want to do in the next three or four years. I did not wake up one day when I was 13 and say, I want to be the Vice President of Innovation and Technology at IBM. I wanted to study science and math."
Standing on her own two feet...
"I always thought having an education was very important. I was part of the generation that fought for women's rights. We wanted to get women into the job force and to be independent. I wanted to make sure that I had an education and I had skills as good as any man. I never wanted to depend on a man."
Her love of computers...
"When I went to graduate school I started doing research in Arecibo, Puerto Rico, where there's a huge radio telescope. When you send radio waves to a planet you can study how that wave is bounced back from the planet and find [a lot of information, like how far away the planet is, and more.] I spent most of my time there programming and analyzing data and I fell in love with computers, so I decided to get a Master's degree in computer science."
Working for IBM...
"Shortly after [I earned a Master's degree in computer science], IBM hired me. I worked in a lot of positions here and one day I was promoted to Vice President of Innovation and Technology. One thing evolved into the other. I have a passion for technology and I saw an opportunity where I could help people and my company, make money, and be rewarded. It was a path that I could not really plan [for] because I made my own path."
Maria's accomplishments...
"I have worked on ATM machine systems, which allow the ATM's to communicate with different banks. I also worked on a browser, which people use when they shop online. The little lock you see when you enter your credit card information online, that was me."
A day in the life...
"I wake up early and the very first thing I do is check my Blackberry [wireless phone that does email and web browsing, etc.] I look at my messages to see if there are any emergencies, because I have a worldwide team, which means that while I'm asleep, the China team and the India team are at work."
"At work, I go from call to call and from meeting to meeting. Frequently, I have to visit customers. Around 7 p.m. I go home, make dinner, and go back on the computer from 8:30 to 9:30 p.m. I don't work on Saturday and Sunday."
Women and careers in technology...
"I really wish that more women would enter the technology field, not only because they are missing out on very fulfilling careers, but also because the competition between the U.S. and the world depends on more women getting in the technology field. By not having more women in the technology field we are losing [a unique] point of view."
Engineers in the media...
"The media portrays engineers as dorky, but I want girls to know that engineering is a very well-paid career and you get to work on very exciting things all the time. You can also make your own schedule—at IBM 50 percent of our employees work from home."
Advice for future tech guru's...
"Take as many technical classes as you can during high school, especially calculus. When you go to college focus on the area that you're studying, but study other fields as well. You need a broad education. The world of the future will be much different, as technology will have evolved."
Down time....
"I have been at IBM for a very long time and I get a lot of [time off]. I have only a few countries in Africa [left] to visit and I will have been all over the world. I was supposed to hike Machu Picchu , but during my visit to Peru there was an earthquake, so it made for a very interesting trip."