Meet Jennifer!
To Be a Candidate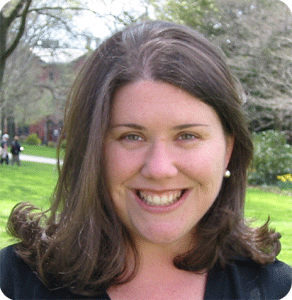 Jennifer Lawless, a Political Science professor at Brown University, ran for U.S. Congress in her home state of Rhode Island in 2006. She saw the opportunity to throw her hat into the political ring—the year before, she had co-authored the book It Takes a Candidate: Why Women Don't Run for Office, which is about why few women run for the nation's key political jobs, big and small. While she did not win the race, she learned a lot about the campaign trail and the political process along the way. Keep reading to find out what it took for Jennifer to be a candidate.
A Call to the Campaign Trail
Did you know that women hold a mere 16.1% of all 535 seats in the United States Congress? That's right—just 86 women are part of our federal legislature.
"I've always been very interested in why we have so few women in office, so that was always in the back of my mind," says Jennifer. But that wasn't her only call to the campaign trail; Jennifer was not satisfied with her congressional district's representative. She felt he did not have his constituents' (a.k.a. voters and citizens) best interests at heart when representing their district on the national level. "I felt that it was my responsibility to enter the race and to represent what I wanted. "It just made sense to go for it!" says Jennifer.  
She knows that she could not have managed her campaign without a support system. "My staff and the volunteers were absolutely incredible. They were the only reason I was able to maintain my sanity throughout the process."
So You're a Candidate. Now What?
Did you know the average congressional campaign costs over one million dollars to run? Have you ever wondered where all that money goes?
To make her campaign funding count, Jennifer chose to devote most of her time to connecting with voters. When she wasn't teaching, she was on the campaign trail 24/7: making fund raising phone calls, doing campaign research, going door to door to talk to voters, attending community events, marching in parades, standing outside of the supermarket and train station talking to local people, and meeting factory workers. "I attended as many events and met as many voters as possible," says Jennifer. She knew she had to connect with voters on the issues that mattered most to them.
You Don't Have to Win to Learn
While Jennifer was not elected as a U.S. congresswoman for Rhode Island, she did not walk away from the experience empty handed.
"[I learned that] running for office [was] really not about [me]. What mattered was listening to what people needed from [me]. It meant listening when people didn't have health care or when senior citizens [needed help figuring out how to get their] prescription drugs. It meant listening when people were upset that their sons or daughters might be sent to Iraq. When you are running for office, when you are a candidate, or ultimately when you are an elected official, it's about bringing about change that can affect people's lives on a daily basis."
Looking Back through HER-Story
As an expert on women and politics, Jennifer owes a lot of inspiration to women who paved the way before her. There are many political heroines to whom girls today can look for empowerment, like Jennifer's favorites, Patricia Schroeder, who in 1973 was the first woman from Colorado elected to the U.S. House of Representatives, and Geraldine Ferraro, who was the first woman on a Presidential ballot when she ran for Vice President in 1984.
 "I've been inspired and impressed by so many things from so many different female leaders," says Jennifer. "Now, over the course of the last several elections cycles, we've seen an increasing number of women running for office. I think every single one of them, especially the ones that share my own political views, have been impressive."
A Call to Action for All Future Candidates and Voters
Jennifer wants girls to know that there's no time like the present to start crafting your own path of civic engagement.
 "Get involved as early as you possibly can, whether that's running for office as a student, or working or volunteering for a candidate or issue that you care about. That closeness and [understanding of] politics will make you realize that you are qualified to do whatever later in life, whether that's to run for office, to run a business, or to be politically active," she says.