Meet Jihan!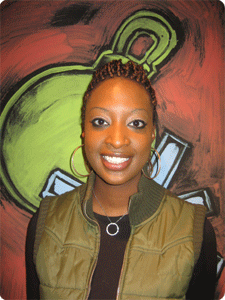 The Girl In The Window 
Jihan doesn't have a typical 9-5 job. As a Visual Display Artist for Daffy's clothing stores, she spends her days building props, constructing window displays, choosing clothing, and dressing mannequins.
What does a visual display artist do?
At Daffy's, we have four major aspects of our job. The starting point for any project is the brainstorming process, where we come up with concepts for designing the windows and interior of the store. The next step is to meet at the studio and create the props needed for any particular idea. Then we make the idea come together with the interior merchandising of the store, which entails creating a theme that flows throughout the store, choosing outfits for the mannequins inside the store, and hanging decorations/props around the store and the windows. Interior merchandising is basically anything that we put up to decorate the inside of the store, from mannequins inside the store to garland and Christmas trees or snowflakes depending on the season or the theme we are working with. The windows are the main area of focus for our team, and they take up the most time.
What is a typical day like for you at work?
There really are no "typical days" for me. Every day is different. One day, I am a stylist, another I am a carpenter, an inventor, an artist, or electrician. Each day, we are at one of our 12 assigned locations in Manhattan, Long Island, or New Jersey, or at our studio in Jersey City, working on some new props.
How did you prepare for your career?
I was actually really lucky. I took a class called Display and Exhibit at the Fashion Institute of Technology, and my professor hired me to work for her at Daffy's as a member of their display team. I learned most of what I know from just watching others at work and from my boss, Mary. That was almost ten years ago. Now, the company requires that you have had completed your degree in order to work for them, although there are internships available for college students who are interested in the field.
Do you make any of the props in the windows or stores or do you buy them all?
We make about 90% of our props, because of our limited budget, but this also allows for more creative license when designing a display. We mostly use building supplies and transform them into beautiful props for the windows.
How do you make the mannequins stand up?
We use a process called "striking," in which we wrap heavy-duty wire around the mannequin's waist and then run two ends down to the floor and nail it down a few inches away from each of the mannequin's feet. There is another type of mannequin that has an anchor hole in the bottom of its foot that matches up with a metal piece on the floor, called a "flange." These types of mannequins can't be easily moved around to different areas of the window.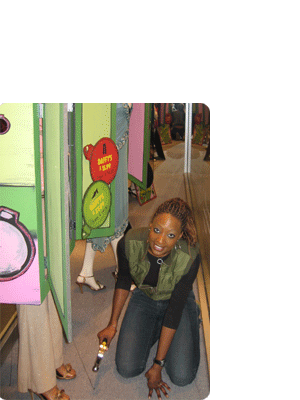 Jihan on...
Who decides what goes into the windows and her long-term career goals.
How do you come up with ideas for the windows, and who has the final say?
We hold meetings where we brainstorm to come up with new concepts for the windows. Usually we try to keep the focus on one of four topics: the weather, the season, any upcoming holidays, or a new item of clothing or piece of merchandise that we are going to try to sell during the time the window display will be in place.
Also, about four times a year the display team travels around Manhattan to various museums, galleries, and art showrooms in order to look for new ideas. This gives us a fresh take on what's going on in the creative world, and we can see if there are any innovative ideas we would like to showcase in our windows. However, in the end, our Art Director has the final say on all window concepts.
Do you feel that you are responsible for the way women feel about themselves and the clothing they wear because you are the one presenting them with what they "should wear" in the windows?
Yes, I take this very seriously and try to choose looks that reflect different body types. I myself am very tall, and I find it hard to shop for clothes that fit my long frame, so I try to include looks that will compliment both tall and short body types. If customers see something that reflects their own style and body type in the window, they are more likely to shop from our store, and I will have done my job properly. Something a lot of stores do when they're dressing mannequins is a process called pinning, where they fit the clothes to the mannequin so they are nice and snug. We usually only do this when we can't find clothes that are small enough to fit the mannequin we are dressing.
For us, it's about finding the best looking outfit that will attract the most amount of customers into the store and the sizes that are available may not work with the mannequins, so we have to make them appear to fit. So, we gather the excess fabric in the back of the mannequin and make it work. Also, the size of the mannequin does not reflect the size of most women, so it is more difficult to find clothing that actually fits them because they are so small.
Do you have a favorite window that you have done?
One of my favorites was a window we did for the Fourth of July at our 34th Street location in Manhattan. It was a nautical theme, with everything red, white, and blue for the holiday. The back wall was created to look like a ship, complete with round portholes for the passengers to look out of. Ships' anchors were hung over the side and placed at various points throughout the scene. We created a boardwalk out of wooden planks on the floor that all of the mannequins were positioned on, with each one wearing a different form of "beach gear." It was nice and simple.
What are your long-term career goals?
Someday, I would like to be an Art Director, which is the highest position in the display department. This would allow me to be responsible for making all of the final decisions about what to put in the windows, as well as how to create internal displays that tie in with the window displays.
What ideas would you like to offer to girls who are interested in your field?
Read a lot of magazines and try to stay in touch with the latest fashions and what people are wearing now. Not necessarily famous people, real people, too! Keep in mind when you are looking at styles, what you're picking out isn't necessarily for you. You should be able to dress all different types of styles, age groups, occupations, genders, and body types. Practice choosing outfits for different types of people, like your parents, siblings, or friends. This will help you to understand what works well on whom. Art classes are also a great way to develop your talents. Try making a shadow box or diorama into a mini display window; it can be a fun way to experiment and to display your new-found interest.
I like to write in my spare time, read, and hang out with friends. I have also been working on designing my own clothes, and I look forward to using my new sewing machine to make them.
What's Next?
Meet more inspiring girls and women.