Meet Katrina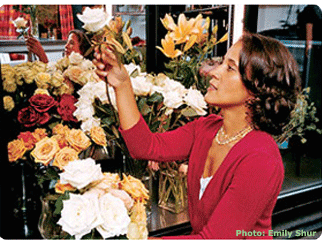 Entrepreneurship in Bloom
Katrina Parris is a creative floral designer and savvy business owner. In July, she opened up her shop to Girls Inc. Corporate Camp for Entrepreneurs. This is a summer camp like no other—teams of Girls Inc. girls travel to New York to refine their unique business plans by gaining tons of first-hand experience from entrepreneurs like Katrina!
As a small business owner, what's a typical day like for you?
I start very early every day. We receive lots of calls in the morning to add onto or change orders as well as calls for new orders. I work on everything from creating arrangements to creating proposals (examples of designs) for possible clients. I also have tons of phone calls to return and emails to check, so everyday is pretty hectic.
What was the biggest challenge when you were starting your business? How did you overcome it?
Finding clients was the most difficult thing, because you constantly need to be looking for new customers. I started out by joining various organizations that help women and minority business owners. I would also send (floral) arrangements to local businesses to show them my work and to get them interested in my product.
[Florists] also need to keep in contact with local event spaces and ask about being added to their preferred vendor lists. It's very important to build your portfolio, make sure that you keep in touch with the clients that you already have, and keep reaching out to possible new clients.
You went to school for creative writing and now you own a floral design business. Describe the path to your career.
I worked in Human Resources for about 15 years and knew it wasn't what I wanted to do for the rest of my life. In 1995 I started my own hand-made card business called Real Life Cards and I was able to sell them in a few stores in Manhattan, but it wasn't successful enough to be my only job.
In 1996 my mother passed away and I realized that life is too short. I really wanted to have my own business where I could work full-time. I started taking classes in floral design and worked part-time with a florist to gain some experience. For a year, my husband and I ran our business out of our home, creating designs until we were able to find and afford retail space to open our shop.
One of the Girls Inc. Girls' Bill of Rights states, "Girls have the right to take risks, to strive freely, and to take pride in success." Starting a business can be super risky, but also very rewarding. What advice do you have for girls who want to start their own businesses?
Research is key when you are thinking about starting a business. You need to make sure that this is what you really want to do, because it is a lot of hard work and long hours. Once you are sure, you just need to believe in yourself and what you're doing. You also need a motivator; it can be anything from being able to be creative to money, whatever motivates you to keep going even when things get difficult.
You have said, "I want to create relationships, not just projects." Why are your relationships with clients so important to you?
I always say that "you are only as good as your last arrangement." You can receive tons of compliments and have lots of happy customers, but if you have one unhappy client that tends to be what stands out. It's all really part of your work ethic and keeping your clients happy.
Was this something you learned to prioritize along the way, or was focusing on these relationships a major part of your original business plan?
Yes, this was part of our business plan from the beginning because we know how important customer relationships are when you own your own business. Your customer relationships are not just one-time encounters. You need to make sure that your client remembers you and keeps you in mind for future projects.
What was the most memorable event that you created floral designs for?
All of my events are unique in different ways, but the most memorable was our first large order. My husband and I were still working out of our house at the time and we didn't have enough refrigerator space, so our entire living room was filled with 85 individual vases for Administrative Assistants' Day. It was beautiful.
Where do you look for inspiration when creating floral designs?
I look everywhere for inspiration, basically anything that sparks my creativity. I like to look online at florists' websites from other cities. Fashion and travel magazines are also a great source of inspiration for me. Living in New York definitely has its benefits; the window displays are amazing and can really get my creative juices flowing!
What is your most and least favorite flower?
My favorite flower is freesia because of its simplicity, but I don't have a least favorite. Every flower is beautiful in its own way. I do, however, have a least favorite flower to work with: the amaryllis is so fragile and the amount of time during which it is most beautiful is so short.
I spend time at home with my two children and relax.