Meet Leigh Ann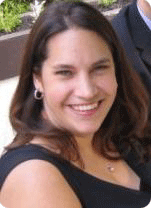 Crazy about Computers!
Leigh Ann Sudol teaches high school students computer science, math, and robotics. Have you ever thought about how the computer skills you use and learn on a daily basis will help you in tons of other areas, too? Keep reading—Leigh Ann gives some great advice!
Describe your job. What's a typical day like for you?
I love my job. In the course of a day I get to play with code and robots, and help students learn problem-solving skills.
My day generally starts out when I arrive at school around 7 a.m. I teach Computer Science 1 (an introductory class), AP Computer Science, Robotics [teaching how to make machines perform pre-programmed tasks], and a math class. When I am not teaching I normally go back to the math office and spend my time communicating with colleagues (often through email), setting up for the next day, or grading papers. After school I keep my computer lab open for students to work or hang out. I advise the programming team and the robotics club.
Did you always want to become a teacher? What other careers did you consider?
Every time I sent a reply card back to an undergraduate university [indicating interest in a program] it had a different major on it. I finally settled on a mathematics major with a dual minor in computer science and education. For a while I thought that I wanted to go into business and I also considered being a lawyer. It is surprising how many computer science students study law as well – the logical thinking between the two is very closely related!
Describe the path that led you to your career. What special preparation did you do?
While in college I worked to pay as much of my tuition as I could. I started out as an office assistant, but was eventually hired as a database administrator and network analyst for a department in the university. I found that my programming skills increased more from that job than all of my programming classes combined. The application of the fundamentals I learned in class was the most important thing to me. As an education minor, I also student taught during my senior year of college. That experience, above all others, convinced me that I wanted to be a teacher.
What made you choose high school education?
I love advanced math and computer science. Teaching high school allows me to work with these concepts as well as develop personal relationships with my students that would never happen in a large university setting. I get to help out at sporting events, participate in school events like multicultural week, and advise a programming team and robotics club. I can't think of any other profession that would allow me to do all that under one job title!
What are some challenges that you often face and how do you overcome them?
I try to work to improve education at all levels in my district, providing staff development on technology to other teachers and helping them to integrate those technologies into their every day instruction.
I face challenges when it comes to having guidance counselors, students, and parents understand the importance of computer science in today's society. Computer science is about logically evaluating the information around us and working with machines to obtain important answers to important questions. High school is a time to explore different topics! Just as its important for students to study biology even if they will never become a doctor, it's important for students to study computer science even if they will never become a programmer.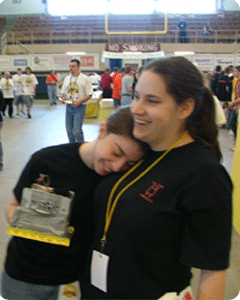 CS = Success! 
Lots of people face some pretty serious gender stereotypes in the fields of math and technology. Keep reading for some great advice from Leigh Ann on how to overcome those stereotypes!
Why is it important to learn about computer science, even if one might not choose it as a career? What kind of foundation does it build?
Computer science is not just about programming or the wires inside a computer. It is strongly rooted in complex problem solving. The ability to take an enormous problem and break it down so that each individual piece can be put together to solve the larger problem is a skill that is essential. I do not know of a single business manager who is not responsible for breaking down tasks and delegating to their employees the pieces – then putting them all back together again to produce a finished task. Complex problem solving, problem decomposition [breaking down big problems into smaller parts], and understanding what a computer can do to help you in any situation makes for a better person in any field of study.
As a woman in the field of computer science and technology, have you faced many gender stereotypes? What are some of the tools you've used to challenge stereotypes that girls will find helpful in their own lives?
Personally I have not faced (or maybe not noticed) many gender stereotypes as I was going through school and working in IT [information technology]. Since being an educator I have noticed gender stereotyping around me and have worked hard to promote equality in my classes and school.
The tools that I use in my school involve talking about the stereotypes, why they emerge, how the media views them, and what experiences my students have had. I find that girls who are well informed about the stereotypes and recognize them as false are more likely to overcome boundaries that are based on gender. By keeping a balanced, open environment in my own classroom they know that they are on the same level as the boys (and often perform better than the boys.) Then, when they encounter a stereotype they will brush it aside, having confidence in their own ability.
What's your favorite thing to teach to your students? What part of the year's curriculum is the most exciting for you?
A favorite assignment is "The 21 Game." We create a computer program that plays the game [just like "20 Questions" but with 21 questions instead]. The program learns as it plays so it continually gets smarter over time.
When it's time for fun, what do you like to do?
I volunteer with a local ambulance corps and I love to spend time with my family. I love roller coasters and traveling to new places, but most of all I love meeting new people. I love living close to New York City and attending musicals, the NY Philharmonic concerts and just pretending to be a tourist and wandering.
What's Next?
Meet more inspiring girls and women.