Meet Cari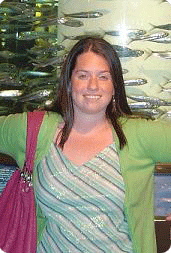 Music Mogul
Have you ever been backstage at a concert? Cari Gelber has a permanent backstage pass as a rock band manager! She takes care of all the cool behind-the-scenes stuff like tour routes, schedules, concert locations, and band publicity. Cari is in her 20's, but she's been managing bands since she was a teenager. She gives great advice on how you can turn your passion into a career—at any age—so check out her Q&A below!
Your recent first novel, Rising Star, is based upon your experiences in the music industry. Can you tell us a little about these experiences?
I started working in the music industry when I was in 10th grade. We had a mandatory internship program at my high school. I worked at The Red Hot Organization (a non-profit company that made compilation CDs and donated the proceeds to various AIDS charities) in the PR department and quickly found that the music industry was for me! From there, I made my way to doing promotions at a radio station and wrote about the local music scene in New York for MTV.com.
While I was getting my feet wet in all aspects of the industry, I started to book and manage bands out of my parents' apartment. I would route their tour schedule, negotiate deals [with venues] and come up with ways to market their shows.
How old were you when you first got involved promoting, managing, and booking bands? What was the first band you managed and what kind of music did they play?
I was 18 when I began booking my first band, Granian, from New Jersey. They had played at my friend's sleep-away camp and then my friend dragged me to a concert to see them play. I approached them after the show and almost immediately started to work with them. They are pop-rock.
The first band that I managed was Oval Opus, whom I still manage today. We just hit our five-year anniversary together! They are from Cincinnati, OH and also fall into the pop-rock category.
Have you ever played in a band? What drew you to the behind-the-scenes work?
I have absolutely no musical talent! I played the violin for about a month in elementary school and the piano for a year—enough time to perform "When The Saints Come Marching In"—and then retired! I've always loved music, going to concerts, watching bands set up, sound check and then play in front of hundreds of fans that were singing along.
What are the top five songs on your "Top 25 Most Played" list?
Hmm…that kind of changes by the day.
Right now: The Fray - "Cable Car" or "Over My Head"; Matisyahu – "Youth"; Gnarls Barkley – "Crazy"; Black Eyed Peas – "Gone Going"; Natasha Bedingfield – "Single". 
How does music inspire and motivate you?
Music inspires me to write: I always use music to get me motivated to concentrate on writing. Seeing live music inspires me and makes me have the utmost respect for musicians. I don't feel people give musicians enough credit—it's definitely a hard life on the road!
The Girls Inc. mission is to inspire all girls to be strong, smart, and bold. Is this mission difficult to achieve as a woman in the music and entertainment biz? What advice can you offer to girls who want to break into these fields?
I wouldn't say it's "difficult" but it's definitely not easy! This is an industry that is all about relationships and who you know. Start young, try out every aspect of the field until you find the one that you feel is what you are looking for. I always wanted to see what is out there. I wanted to become well rounded, with skills in management, booking, marketing, publicity, street team, sponsorship, sales, and radio. Be open to trying it all. Make as many contacts as you can, and don't be afraid to ask questions! If you are passionate about music and the business of music then you will be able to succeed.
How did you feel as a college student who already had a career (that's pretty unique!)? What did you study?
My schedule was crazy! I would go to early morning classes so I would have a good part of the day off to concentrate on the bands. I would run home for an hour to fax a contract and send press kits out, and then I would go to night classes. I got my degree in Business with a concentration in Marketing. It was hard to balance the two, but I knew I just had to get through school and then I would have all of the time in the world to do music.
When it's time to relax, what do you like to do for fun?
I LOVE to travel: day trips, weekend trips…I get away any time I can. I like to cook, read (I'm in a book club), shop, and plan events and get-togethers. I'm big on entertaining and hosting!
What's Next?
Meet more inspiring girls and women.