Cooking Caitlin Style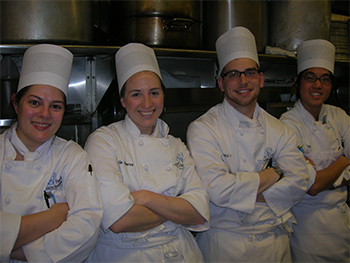 View more images of Caitlin cooking.
Working in a restaurant, writing for a magazine, being on television, traveling the world…ever wish your career could include any or all of these experiences? Chefs are lucky to have a diverse range of opportunities. Meet Caitlin, she's training to be a chef!
Q: You have degrees in Sociology and Women's Studies, and experience working in a corporate environment. What inspired you to attend culinary school full time?
Growing up, my parents always encouraged me to follow my passion and do what I love. Through college, I didn't know what my passion was, but I had always loved to cook and was surrounded by incredible cooks in my family. It took me about two years to finally come to the decision that I wanted to cook for a living. I think the defining moment in my decision process was when I would sit at my desk at my former job and daydream about chopping onions and garlic.
Q: Describe your program and your classmates. Are there students who are fresh out of high school as well as students who have had careers already?
The neat thing about the French Culinary Institute and the culinary field in general is that you work with all different kinds of people. I have 23 students in my class, ranging from just out of high school to people in their 50's, from native New Yorkers to international students from every continent. The bulk of us are career changers. But, it's great to see people out of high school and college who already have a direction in their lives. We all come from different backgrounds and have different goals, but it's been great to be able to bond over our love for food. It will be even more fun to see wherever everyone ends up in several years!
Q: Many women face the traditional gender role that they must be good cooks in the home. The culinary field, though, is actually dominated by men—many women find it difficult to advance to top levels. How have you overcome this challenge so far? What are some past experiences you'll draw on to empower you to overcome these challenges in the future?
The most empowering thing so far in my experience at school is the simple fact that more than half of my classmates are women. I think that this says a lot about how the culinary field is changing – more and more women are reaching top levels in restaurant kitchens and other culinary areas. I'm very hopeful. But it's still fairly evident, particularly in New York City, that the professional kitchen is male-dominated. I think it's important for me as I begin my career to remember that my gender has no impact on how well I can cook – on how well I can do anything really. Having grown up surrounded by strong female role models, I've never been told I can't do something because I'm a girl.
Q: What advice do you have for girls interested in pursuing careers as chefs or in the restaurant and culinary industry?
Get in the kitchen! You won't have any idea if a cooking career is for you until you see it for yourself. Restaurant kitchens are fast-paced and exciting but also stressful sometimes. Go to your favorite restaurant and ask for a tour or ask to shadow for an afternoon. Chefs love having an extra pair of hands around to help out. When the time comes to get a part-time job, think about serving in a restaurant or working at a bakery. And of course, cook and experiment in your own kitchen. With food, the possibilities are endless.
Q: Preparing a meal can be overwhelming and stressful. What are some ways kids can have fun with cooking?
I think the most fun is when you cook with someone or with a group. In middle school, my friends and I loved to bake cakes together when we had sleepovers. And we always made Kraft macaroni and cheese with our own special ingredients. I also think it's easier to cook something you love to eat. What's the point of putting in tons of effort to make liver and onions? It's much more fun to make homemade ice cream or spaghetti.
Q: Who are your role models? How have they inspired and supported you in this adventure?
My role models are my parents. My dad died seven and a half years ago, but he stays with me everyday. He LOVED his job, and he encouraged us to find something that we love, too. He supported all three of us in our many endeavors – he was our biggest fan. I often think to myself if my dad would be proud of me for the decision I've made with my life, and I know he would be. He's smiling.



My mom continues to inspire me everyday. As an elementary school teacher, she loves her job. She looks forward to going to work everyday and finds joy and fulfillment in her students. As my biggest supporter, she calls everyday to ask what I cooked in school, what I learned, and whom I felt like throwing a frying pan at. And she's always more than willing to eat whatever I cook for her. Both my parents made me believe in the idea that if I was going to go to work everyday, I should at least do something that I love. All of my family and friends have been and continue to be extremely supportive of me as I pursue my culinary career - and everyone wants to know when I'm going to go to their house and cook for them!
Q: Where do you see yourself in five years?
This is the hardest question. I have no idea! There are endless opportunities for trained chefs; you can work in a restaurant, you can work for a food magazine, you could work for the FoodNetwork, you could be a private chef, you could work on a farm, you could be a food writer, you could be a sommelier (a wine expert), you could cook on a cruise ship, you can cook in any country in the world. It's exhausting just to think about. All I can say is that I hope I'm cooking and I'm happy.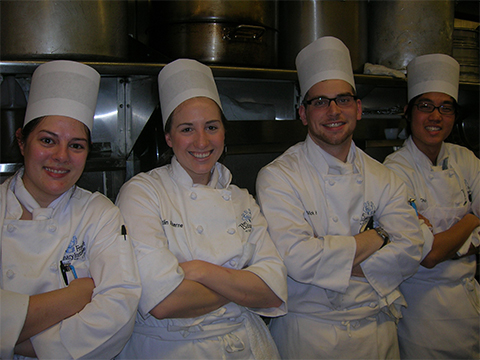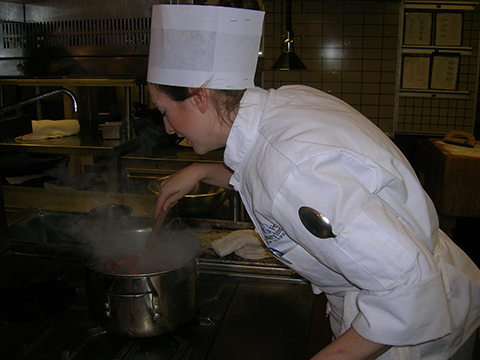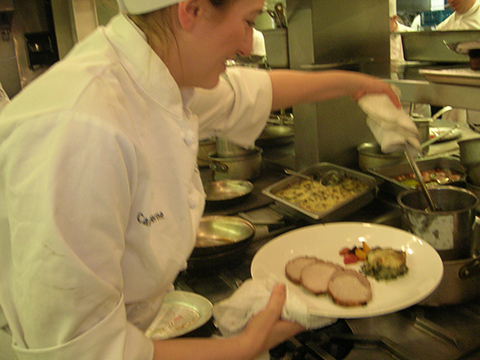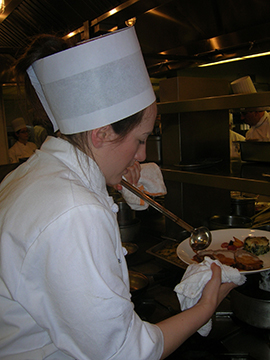 Tags: